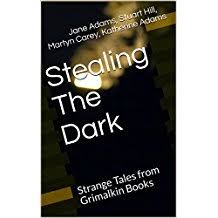 Stealing the dark…creates more shadows. Grimalkin Books is proud to present fifteen tales of strange, unexpected and otherworldly happenings.
Settle down in a comfortable chair, dim the lights and allow the shadows to gather. Immerse yourself in a world of ghosts and green men, or imaginary friends that are more than they seem and spontaneous creations, sprung from the rubbish we humans discard.
Nothing, in Grimalkin's world, is ever as it seems…
Kibworth Community Library Thursday November 16th, 7pm.  Admission £5 with tickets available in advance from the library.