Reviewed by Evelyn and Lucy from Kibworth Primary School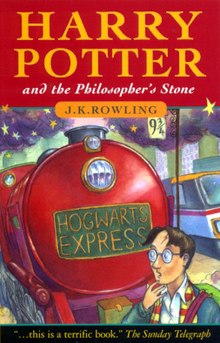 This book takes you through a journey of mysteries and surprises with a cliff hanger on every page.
Harry Potter, an 11 year old boy who lives with his heartless relatives, Uncle Vernon, Aunt Petunia and Dudley is visited by a half giant with the name of Hagrid after weeks of being sent multiple letters nonstop. Hagrid tells him something that he thinks he will never believe.
He is a wizard and his mother and father (James and Lilly Potter) were killed by the most evil wizard of all time – Lord Voldemort.
Because he is a wizard, he must go to the wizarding school (Hogwarts). There he meets a spoilt, young boy in the school house of Slytherin who tells him that his new best friend (Ron Weasley) is not worth having.
As the year continues Hogwarts seems to feel more like home, Harry must undertake a mental journey of trust and discovery ending in him having to face his (now) mortal enemy Voldemort…