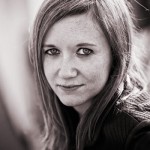 Laura Barnett gave us a talk about her best -selling novel 'The Versions of Us' on Wednesday 22nd June. 
Over 35 people attended this our first event at our newly opened community library.
This event formed part of the visionary Kibworth BookFest , organised by The Bookshop Kibworth.  'The Versions of Us', a number 1 Sunday Times best-seller is also published in the USA and translation rights have sold in 24 countries.  The paperback is both a Richard and Judy Book Club and Waterstones Book Club choice this spring.
'We are really thrilled to have had such a successful author as the very first speaker in our new community-run library.  And we plan to make this the first of a long string of book and arts events', said Management Group member Val Moore.