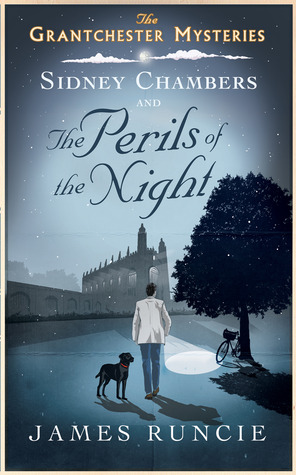 The Granchester Mysteries, of which this is one, are set in Cambridge, but are more church and gown than town and gown.
Canon Sidney Chambers is vicar of Grantchester, no less. He is never quite distracted from his calling, but an inquiring mind and friendship with the local police inspector, Geordie Keating, lead him into the temptation of helping to solve the occasional crime.
Their friendship, based on mutual respect, wry humour and regular discussion over pints of beer, is often effective in bringing the criminals to book. Here though, when a college don dies in a climbing exploit over King's College roofs, questions arise. Murder, suicide or accidental death? Is a photographer's studio arson or an attempt to destroy evidence? Where does the poisoning of a local cricketer fit into the conundrum?
To add a further dimension, the 1955 date setting of this novel is based in the era following the Burgess and Maclean defections, and Kim Philby lurks in the background, metaphorically if not physically. Runcie, the son of a former Archbishop of Canterbury, writes with elegance and restraint. Some of his descriptions verge on the poetic, while Sidney's romantic aspirations are tentative and a counterpoint to the mysteries. It is all a far cry from the often very specific violence and bloodthirstiness which mark so many 21st century crime novels – and something of a restful relief from them too.