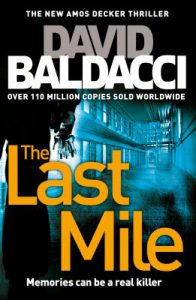 January 2017
Baldacci is once again in the best-seller lists with this complex whodunnit featuring FBI Special Agent Amos Decker and an anti-hero Melvin Mars.
His every appeal having failed, Mars is within hours of execution, having been convicted of the murder of his parents 20 years ago. However, instead of being taken to the execution chamber, he is informed by his lawyer that A N Other person has confessed to the crime and he is to be freed while investigations take place.
These involve Decker who, following a blow to his head in his high school footballing days now has perfect memory. An asset in a cop, you may think, but is it?
He takes on Mars' case because he recalls playing against him: Before the murder, Mars was destined for a high profile football career. Unlikely as it may seem, this bond turns out to be a key element in the crime.
Far from unravelling, the plot becomes ever more complex as more killings ensue and it becomes clear that there has been more than murder and cover-ups in high places afoot.
As ever, Baldacci manages the twists and turns  maintaining his readers' interest to the very end and providing a satisfactory denouement. It helps that both Mars and Decker evolve into likeable characters. It would be no surprise to find them together again in a future book.
https://emlib.ent.sirsidynix.net.uk/client/en_GB/leics/search/results?qu=the+last+mile&te=&rt=false%7C%7C%7CTITLE%7C%7C%7CTitle