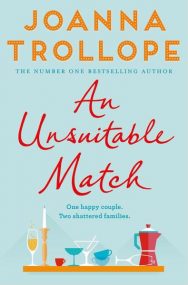 Regardless of the title, when this book begins, the proposed match looks eminently suitable.
Recently divorced Rose, 63, and recently widowed Tyler chance to meet at a London theatre, realise they had been contemporaries at secondary school, reminisce about schooldays and fall blissfully in love. Not just suitable then, but in the "too good to be true'' bracket.
Joanna Trollope is at her best exploring family relationships – two of her score of novels are titled Brothers In Law and Next of Kin, after all. Here, she has a field day – parents/children, brothers/sisters, twins, step relationships, husbands/wives – and she deals with it all deftly.
Money is at the hub: Rose owns a desirable central London mews house, a valuable financial asset. Tyler not only appears to lack money, he appears to have no interest in it at all. So, when he persuades Rose to sell her property so they can buy a country cottage where they will start their married life together, her three children are horrified. They don't actually dislike Tyler, who is eminently likeable, but are aware of their mother's vulnerability. "Live with him if you must, but don't marry him,'' they urge.
Rose is torn between her adoring suitor and her adored children. Her older sister pitches in with good advice too – helpful, but unwelcome, as good advice so often is.
Whether you approve of Rose's way out of the dilemma depends on your point of view, but it provides food for thought.