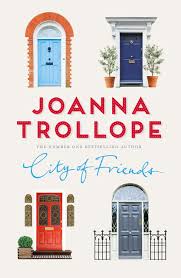 Feminism is much in the news just now, with emphasis on gender equality in the workplace, so Joanna Trollope's novel is particularly relevant, dealing as it does with the complex issues faced by women who have both a career and domestic life. Trollope's touch is light, but there can be no doubt about the seriousness with which she tackles the problem. Her conclusion? Women cannot have it all.
The four women here have been best friends since university. All are successful, ultra smart both in business terms and socially, and admired by both male and female colleagues alike. But when business threatens friendship, and vice versa, tensions and divided loyalties arise,
Melissa is a single parent of teenage Tom; Gaby's husband runs his own successful retail business, whilst fully supporting her career in international finance and they have a chaotic family life with two teenage daughters and a son; Beth is gay, a senior academic whose writings on business psychology are influential, and is in a long term stable relationship with Claire; Stacey is an ace business consultant, married to Steve. Her domestic problem is a mother with dementia.
The book opens with Stacey getting the sack. Devastated and disorientated, she goes home to find Steve planning a celebratory dinner: he has just had an important promotion. Because of their closeness, Stacey's misery affects the other three and Trollope charts the results with insight, empathy and her considerable storytelling skills. I hesitate to label this "a women's read'', but it is certain to resonate and appeal to women rather than men, and is a very good read for all that.