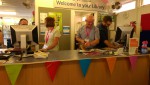 On Monday the 23rd May we opened for the first time as Kibworth Community Library.
While this is a "soft" opening – not too many bells and whistles! people still popped in  to celebrate the start of our community library.
We still have much to do over the next few months, including planning some building alterations and  a big launch in Oct/Nov.
Our first day was great – we had at least 7 new people join the library.
Our first user was a chap called William, who returned over 15 books – giving our Volunteers a shock. He then preceded to choose and take out another ten books, and fitted in eating a cupcake. This is our kind of user  – loves reading and cake!