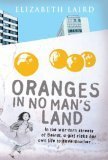 In her introduction to this novel suitable for eight/nine year olds, Elizabeth Laird explains that she once lived in war-torn Beirut, its setting, so that her descriptions are clear and authentic.
Ayesha is ten years old. When bombs destroy the family home in Beirut, her mother sends her away with her grandmother and her two small brothers, Latif aged seven and baby Ahmed. They find shelter of a sort in a ruined building along with several other families. When her grandmother becomes seriously ill, it is Ayesha who risks her life to cross the city to find a doctor.
The chapters are short, the words simple, but adult enough to be challenging, the storyline interesting and varied. There is distress, there is fear, but there is also love, friendship and hope.